The easiest solution for 4K* streaming, recording, and switching
Pearl-2™ brings the pro features and processing power required for the most demanding live events including 4K streaming and recording, live switching, NDI support, and chroma keying. Add Epiphan Edge and you can control Pearl-2 from anywhere to produce broadcast-quality content from a distance.
*Requires the 4K feature add-on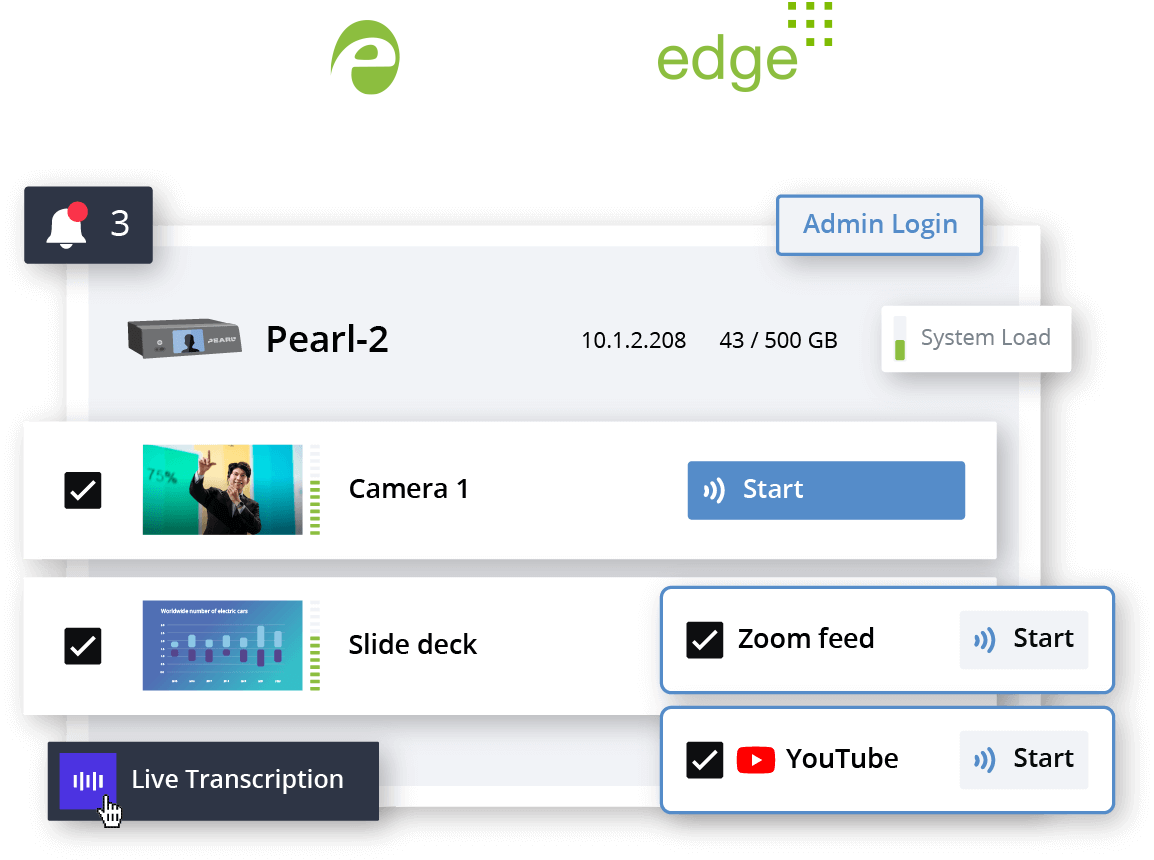 Power up Pearl-2 with Epiphan Edge™
Take control of Pearl-2 from anywhere with Epiphan Edge's powerful remote production capabilities.
Full remote access

Live switching and production from the cloud

Centralized dashboard for monitoring devices

Real-time alerting of any issues

HETMA approved
"It's simple to set up and integrates well with our LMS system… It's portable, and has an easy to understand UI. We like it and didn't want to send it back."
Reach viewers everywhere
Simultaneously live stream to YouTube, Facebook, and other content delivery networks and content management systems using SRT, HLS, custom RTMP/RTMPS, and RTSP. At the same time, use the built-in streaming server to stream locally to web browsers, smart TVs, and set-top boxes.Deep integration with Kaltura, Panopto, and YuJa video platforms means no complicated stream URLs to set up. Just schedule your webcast events or start streaming right from Pearl-2's built-in touch screen.
Share your webcasts
Locally share unicast or multicast streams to up to 50 viewers with popular streaming protocols like HTTP, HLS, FLV, ASF, and SAP.
Stream securely
Use SRT end-to-end 256-bit AES encryption, HLS, or RTMPS for secure content streaming.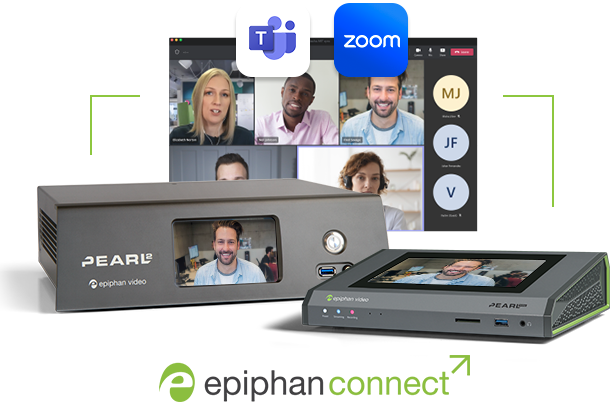 Get direct feeds from Teams and Zoom
Add Microsoft Teams and Zoom participants in full HD as SRT sources into Pearl with Epiphan Connect.
Isolated audio for each participant
Simplified, dummy-proof screen sharing
Entirely cloud based – no cables, no local network, no extra gear!
Versatile connectivity with NDI and SRT
Pearl-2 empowers owners to take advantage of networked inputs both on-site and around the world.
NDI® and NDI|HX for network video production
Pearl-2 supports High Bandwidth NDI with alpha channels and NDI|HX for broadcast-quality video with low-latency over Gigabit Ethernet networks. No extra HDMI or SDI cables are required. The system accepts video and audio from a wide variety of NDI-enabled devices and cameras, and it's just as easy to share the output from Pearl-2 with other NDI devices on the network.

Optimized video transport over any network with SRT
Securely add sources and stream content across public Internet while maintaining professional-quality regardless of network conditions. Ideal for bringing remote feeds into your production.
Pearl-2 models
Choose the model that suits your needs. Each model is available with the base feature set or the optional 4K add-on.
For portable live production. Includes a hard-shell carrying case.
All the same features of Pearl-2 but designed for rack installation.
"Epiphan Pearl has been a game-changer in our customer offering."
Glenn Fraser, Video Engineering Specialist at Freeman
Record in 4K*
Harness the power of Pearl-2's sixth-generation Intel i7 processor to capture stunning 4K video at 30 fps. Pearl-2's hardware-accelerated encoder provides flawless H.264 encoding for maximum compatibility and performance with any video portal or player.
*Requires the 4K feature add-on
Internal 500 GB SSD
Save recordings directly to the internal 500 GB SSD. Easily download recordings and manage files through the Admin panel or Epiphan Live interface.
Automatic or manual file uploads
Record to the local SSD while automatically transferring files to a USB drive, local server, or network-attached storage device (FTP or SFTP) for fail-proof recording, or transfer files manually.
Switch video sources live
Pearl-2's built-in touch screen makes it easy to switch between your video sources and layouts during live productions. Alternatively, use the browser-based Epiphan Live interface to switch sources from almost anywhere using a desktop, laptop, or mobile device.
Create professional custom layouts
Pearl-2's powerful yet easy-to-use layout editor lets you combine, crop, and scale video sources to create dynamic, professional-quality layouts.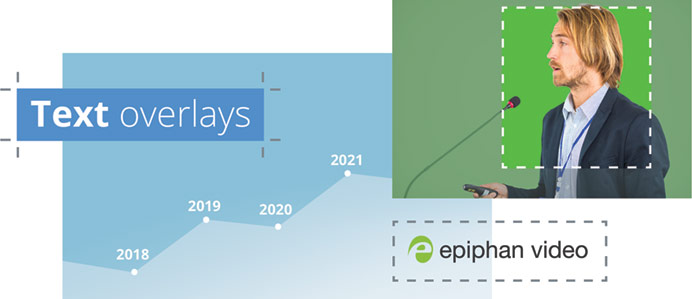 Easy PiP layouts
Make picture-in-picture, side-by-side, three-quarter, and other layouts for a dynamic and polished presentation.
Chroma key for green screens and graphics
With Pearl-2's chroma key support, easily use green screen setups for background replacement and third-party titling software to bring rich animations and lower thirds into your productions.
Images and dynamic text
Customize the look and feel of your event with transparent PNG images, a static or dynamic background, timestamps, text overlays, and other elements. Define custom system variables for even more flexibility, like adding current GPS coordinates.
Video inputs
You can connect just about anything to Pearl-2 – cameras, computers, imaging equipment, and more. Pearl-2 accepts standard and custom resolutions up to 4096×2160 from SDI, HDMI, and USB sources, as well as network-based H.264 RTSP, NDI®, NDI|HX®, and SRT sources.
2 × 12G SDI
2 × HDMI 1.4a
2 × 4K HDMI
2 × USB 3.0 (UVC/UAC)
NDI / NDI|HX
SRT
RTSP (H.264)
Video output
Send an HDMI feed of your switched program to projectors for front-of-house presentations, display walls, or monitors for confidence monitoring. Share the program output or an individual input source.
Network
Connect to the network over Ethernet.
1 × 10/100/1000 Ethernet port (RJ45)
Audio inputs
Mix embedded audio from you video sources with audio from professional mixers or other audio devices with individual input gain controls. Confidently monitor audio levels with on-screen VU meters and headphones.
4 × XLR pro line level (+4.0 dBu) up to 12.3 VRMS, +24 dBu (balanced/unbalanced, mono or two L/R stereo pairs)
1 × RCA consumer line level -10 dBV (L/R stereo pair)
Audio output
Connect headphones to the front-mounted 3.5 mm audio jack and monitor audio levels with on-screen VU meters.
Plug and play or tweak to perfection
Pearl-2 is ready to use out of the box. Connect video sources directly to the HDMI inputs and start recording right away using the intuitive touch screen, or dig into the Admin panel and create a truly custom video experience for your viewers.

Intuitive touch screen and one-touch streaming/recording
Pearl-2's built-in touch screen and the intuitive touch-screen UI simplify streaming and recording so even inexperienced operators can control the system with confidence. One-touch functionality lets you start or stop recording and streaming with a tap of the screen, and from the touch screen you can monitor your sources and switch at the same time.
Epiphan Live™
Simple, intuitive, and mobile friendly, Epiphan Live makes it easy to control live video productions. Monitor sources and access channel and system information, control streaming and recording, switch between custom layouts, and more.
API and RS-232
Pearl-2 features comprehensive HTTP/HTTPS and RS-232 APIs for third-party integrations.

Web-based UI for advanced control
The web-based Admin panel is where you can access all the configuration options Pearl-2 has to offer. Set up your channels and recorders, select custom resolutions and streaming options, configure security features like 802.1x, and much more.
Local Admin panel
No need to bring along a laptop to configure Pearl-2. Connect a USB mouse, keyboard, and HDMI monitor for easy Admin panel access. You can even use a touch screen monitor for added ease.
Integrate with your AV control platform
Control Pearl-2 directly through Crestron or Q-SYS systems. Manage and automate video capture from a single control panel.
Crestron
Integrate your Pearl-2 into any Crestron space using the Crestron-developed Control Module. Build upon the module's existing code base for secure API control over HTTP or HTTPS.

Q-SYS
Bring streaming and recording to any Q-SYS-controlled space with Pearl-2 hardware encoder. Install the secure Q-SYS plugin for full device control. No additional programming required.

Deep content management system integrations
Full API integrations streamline your Kaltura, Panopto, and YuJa workflows. Simply register Pearl-2 with your preferred CMS to start using the system for streaming and recording – no complex programming required.
Learn more about Pearl's Kaltura, Panopto, and YuJa integrations
Secure live streaming and control
Stream securely with the latest protocols. Pearl hardware encoders support SRT with end-to-end 256-bit AES encryption, HLS, and RTMPS. Enjoy a hassle-free deployment in your enterprise network with support for 802.1x certificate authentication and HTTPS for encrypted admin access.

Digital certificate management
Pearl-2 supports PEAP, EAP-TLS, and EAP-TTLS authentication access control methods on 802.1x networks using passwords, usernames, and digital certificates. Easily upload and manage digital certificates on Pearl-2 via the Admin panel.
Role-based access control and LDAP support
Log in to Pearl-2 with administrator, operator, or viewer privileges. LDAP authentication support lets you define domain name (DN) groups to assign user roles in bulk to let users log in with their LDAP credentials.

Secure streaming
Get end-to-end secure streaming with up to 256-bit AES encryption using SRT, encrypt content over TLS/SSL connections with RTMPS, or use HLS for secure live streaming over HTTPS.
HTTPS and SFTP secure data transport
Securely access the Admin panel and configure Pearl-2 over an HTTPS connection. Encrypt and send sensitive recordings from the system to offsite SFTP servers with Automatic File Upload.
Advanced networking
Take the "work" out of your network setup and configuration with Pearl-2's auto-discovery feature and built-in touch screen. The touch screen lets you view and reconfigure your IP address right from the device and offers quick access to helpful networking tools like connectivity diagnostics. You can also access these and other networking features through Pearl's web-based UI.
Additional features
A host of other convenient features help make Pearl-2 the ultimate all-in-one video production system.
Configuration presets
Quickly apply settings to Pearl-2 and reconfigure on the fly for a consistent setup every time. You can even download a configuration preset and upload it to another Pearl-2 system.
AV sync
Adjust AV synchronization on each video input from -300 ms to 300 ms and instantly preview the results.
Custom no-signal images
Prepare for signal loss by setting a custom image to keep viewers engaged.
Deinterlacing
Convert an interlaced video input signal to a non-interlaced signal.
USB camera control
Control the contrast, brightness, saturation, and other settings of connected USB webcams from Pearl's Admin panel.
On-air status light
Connect a USB status light* to signal when streaming or recording is underway.
Multi-track recording
Record multiple channels in a single, multi-track file and ensure recordings start and stop at the same time. The built-in synchronization tool lets you split files into individual tracks for post-processing.
Built-in EDID compatibility
Pearl-2 features a robust, factory-set Extended Display Identification Data (EDID), ensuring video input ports correctly emulate a monitor for the connected source. The system also supports custom EDIDs.
Time sync
Use an NTP (RFC 868), RDATE, or PTP v1 (IEEE-1588-2002 V1) server to synchronize the time the system uses for timestamps and labelling recordings, or set the system time manually.
*User supplied. Select models from Busylight and Delcom Products are supported.
What's in the box?
Pearl-2 comes with all the cables and connectors you need to combine, encode, switch, and record 4K and HD video.